Flash Flood WATCH in effect for:

Coastal Flood ADVISORY in effect for:
Stockton Experiment to Ride the SpaceX Falcon 9 to the International Space Station
Last Edited:
Chioma Uka, Dean Peter Straub, Pamela Cohn, Daniel Schneider and Christina Tallone prepare to send Stockton's Mission 12 experiment to space.
From the Stockton University website ...
POMONA, NJ — A Stockton University science experiment will launch to the International Space Station (ISS) aboard the SpaceX Falcon 9 on Friday, June 29, in search of answers that could enhance medicine for patients.
Drug delivery vehicles for controlled release anti-cancer drugs and insulin cannot self-assemble with uniform shape on Earth, but there's a chance they can in outer space.
Christina Tallone, a sophomore Physician Assistant Studies major from Hamilton, N.J., and Daniel Schneider, a freshman Pre-Medicine major from Tabernacle, N.J., worked with faculty mentor Pamela Cohn, assistant professor of Chemistry, to design an experiment contained within small fluid mixing enclosures. Chioma Uka, a biochemistry major with a minor in Global Studies from Kenilworth, N.J., helped the team assemble and prepare the experiment for launch.
Part of the experiment will remain on campus as a control, while the other half will go to space.
The carriers that enclose medication must be the same size and shape to safely release a drug to a patient. The team's theory is that the absence of gravity will affect the structural consistency of drug carriers during self-assembly.
Non-uniform carriers result in intensified side-effects and dosage spikes, making medications unpredictable.
The team slogan and hashtag is #PEGmashers. When Pamela Cohn shared that she played on the Macro Mashers flag football team with the Macromolecular Science and Engineering Department as a postdoctoral researcher, the students came up with their own unique slogan for their experiment that uses the PEGMA polymer.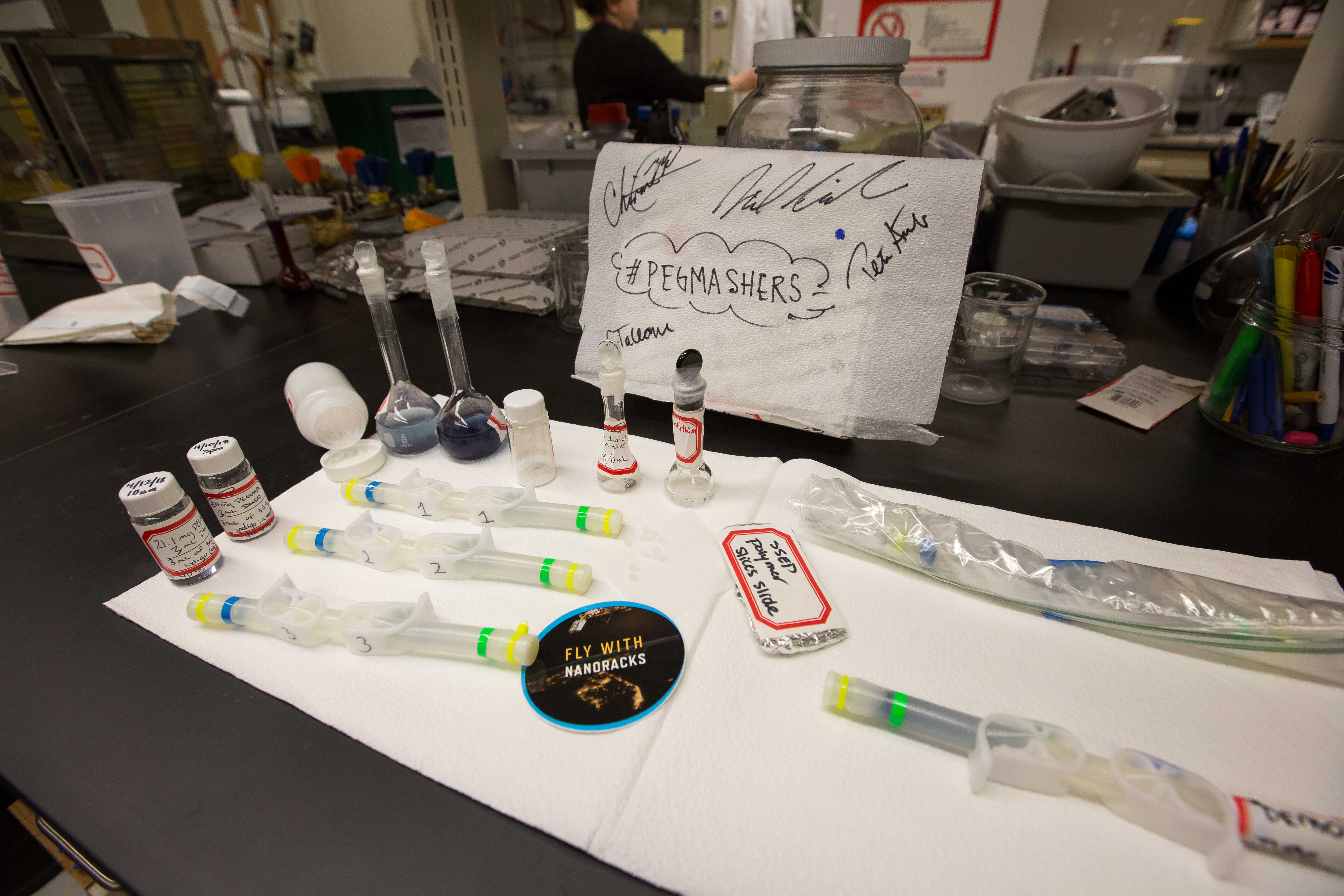 Robert Lind designed the winning mission patch that will fly with the experiment into space. Lind is a rising sophomore at Atlantic County Institute of Technology in the Aviation Studies program. He is excited for the opportunity to attend the launch to see his patch blast off to the ISS.
If the team discovers that structurally consistent drug carriers can be created in a microgravity environment, then controlled release drugs can be made in laboratories that simulate weightlessness on Earth. If not, then there are likely forces unknown to science that impact self-assembly.
The launch is weather dependent, and any delays will be announced by Spaceflight Now. NASA TV will stream live coverage of the launch beginning at 5:15 a.m. EDT with the launch scheduled for 5:42 a.m.
About the Project:
The Mission 12 project at Stockton is a partnership between the School of Natural Sciences and Mathematics, the Stockton Science, Technology, Engineering and Mathematics (STEM) Collaborative, the School of General Studies and the School of Education.
The Student Spaceflight Experiments Program [or SSEP] is a program of the National Center for Earth and Space Science Education (NCESSE) in the U.S. and the Arthur C. Clarke Institute for Space Education internationally. It is enabled through a strategic partnership with DreamUp PBC and NanoRacks LLC, which are working with NASA under a Space Act Agreement as part of the utilization of the International Space Station as a National Laboratory.
— Reported by Susan Allen
MORE:
Ocean Resort Casino Grand Opening Has Mark Wahlberg Placing First Bet
Latino and Hispanic Communities Come Together for 'Cumberland County Latino Professional Business Mixer'
Camden County Residents Learn How to Protect Themselves During Tick, Mosquito Season
---
SNJ Today is a Southern New Jersey news and information source that is dedicated to providing current stories related specifically to South Jersey.
Do you have community news or events? Email news@snjtoday.com, text SNJNews to 313131, or call 856.825.NEWS (6397).